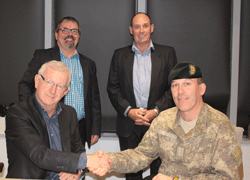 11 September 2015
The New Zealand Defence College (NZDC) has recently signed a three-year agreement for Competenz to provide training programmes that meet the needs of the New Zealand Defence Force (NZDF) and align with industry standards.
Competenz CEO John Blakey says the agreement is a great opportunity for Competenz to continue their relationship with the NZDF.
"We've really enjoyed being able to offer the opportunity for their personnel to do civilian qualifications that align with their training programmes," John says.
"The qualifications are recognised by NZQA. If personnel decide they want to return to civilian life, then they can take those qualifications with them."
Competenz are working closely with the NZDF as a business partner by providing skilled development programmes that are innovative and work for their personnel.
"The New Zealand Defence College values the relationship with Competenz. Our cooperative approach has helped identify and build qualification recognition for NZDF personnel," says Ian Bateman, Manager External Relations and Qualifications at the New Zealand Defence College.
"Together we have developed credible outcomes for service personnel and qualification pathways that incentivise recruitment, support lifelong learning and hopefully contribute to future retention."
The Royal New Zealand Navy (RNZN) Commander Emma Grant, who attended the signing, says the agreement continues to strengthen the ties between the Navy and Competenz.
"The Royal New Zealand Navy has an excellent relationship with Competenz. We are fortunate to have Lara Williams (Competenz account manager for the RNZN) embedded within the Navy. This means Competenz is able to work closely with our training staff to facilitate meaningful industry qualifications to RNZN personnel," Commander Grant says.
"This in turn contributes directly to Navy's strategic goal two, 'Workforce Excellence', where we train and qualify people to industry standards. Ultimately, the Navy is nationally recognised as an employer of choice – our people are choosing to serve for longer."
NZDC is the education institute of the NZDF. The College provides professional military education courses to future commanders, officers and leading warrant officers.
Competenz is proud to be in partnership with the NZDF. We will continue to work with the NZDF to build nationally recognised training programmes that upskill their personnel.