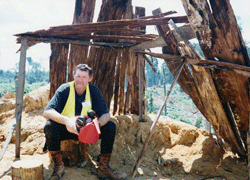 19 May 2015
Director, Hohneck Forestry Services Ltd 
"What do I look for in learners? Life is all about attitude and choices - get that part right and the rest falls into place."
Trainer-assessor, Mike Hohneck, one of our 'go to' guys for putting people through their paces, has supported and evaluated hundreds of forestry learners over the past 15 years.
Following in the family footsteps, he joined a logging crew at age 16 - working his way up to foreman and running his own logging company, before making the transition to training. After a stint in Borneo, setting up logging crews, he was a health and safety manager, coordinating training for more than a dozen crews back in New Zealand. And, in 1999, he began working with the Forest Industries Training and Education Council (FITEC), now Competenz, as a contract trainer-assessor. 
What's a typical day on the job?
Up at 5.00am. And, onsite by 7.00am to go over the training plan. As a trainer-assessor, I work with learners and assess their skills against unit standard requirements.
What are the challenges?
Probably communicating those unit standards to some of the younger guys with low literacy. You need to find different ways of getting it across to them.
How has the industry changed?
Mechanisation. We've gone from 20 chainsaws to one piece of machinery, which makes it difficult to train multiple people at once. Operations can't slow down too much. Contractors need to maintain their productivity to survive.
What surprises you most about forestry?
There's always someone willing to give it a go. Forestry used to be like farming - it was handed down from father to son. Now, it attracts people from all walks of life. The money is still part of the attraction.
What would people be surprised to know about you?
I'm 'third generation' forestry. As a trainer-assessor, I turn up on-site in tidy dress. The boys look at me and think: 'Has he ever worked in the bush?'
How would you like to be remembered?
As someone who tried. Someone who cared that they could do the job well and do it safely.