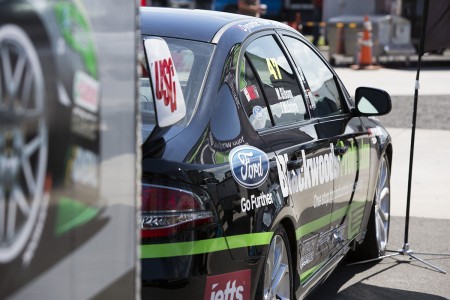 08 January 2015
For secondary school students Sam Arkley-Perry, Ryan Gulliver and Dylan Ayre, the dream of working for one of New Zealand's leading V8 SuperTourer teams became a reality recently when they joined JMR Racing as pit crew.
John McIntyre of JMR Racing teamed up with Competenz and recruited the students, all of whom were nominated by their teachers and selected from the Tools4Work programme, designed to give secondary students hands-on experience to prepare for a career in engineering while they achieve national standards.
Their chance in the pit crew came during the recent V8 SuperTourers Series Championships held at various racetracks around the North Island including Pukekohe and Hampton Downs.
"We enjoyed bringing the three students into motor racing this year; we've been involved in the sport all our lives and so it's really rewarding to be able to give a new experience to young people. It's important they do the mechanical engineering book work if they want to grow their practical skills," says John.
Brian Lane, Competenz Moderation Manager for Schools says the boys were selected by their teachers for more than their keen interest in motor sport. All had completed their Level 1 and 2 Tools4Work units in the schools' Engineering and Automotive programmes, had gained good practical skills and possessed a responsible attitude towards safety.
"All three students had the skills, reliability and maturity to meet this pit crew challenge," said Brian.
Manurewa High School student Sam Arkley-Perry is a 'car fanatic' and a keen conversationalist on all things motor racing, car restoration and drifting.
"I was nervous and excited about joining the pit crew and didn't really know what to expect but it was an awesome new experience for me," he said. "I've got a passion for cars and enjoyed my engineering and construction classes this year. I don't think I'm the fastest in the workshop but I know I'm reliable and cautious, and I make sure my work is right before handing it in."
Sam is enrolled in a full time course at Pukekohe Raceway in 2015, learning to build a Honda Civic, and eventually wants a job in a workshop building engines.
Taupo students, Dylan Ayre from Taupo College and Ryan Gulliver from Tauhara College also joined JMR Racing in the pits. Like Sam, both boys are motor sport fans and the experience proved "surreal" for Ryan.
"Being in the pit crew exceeded my expectations. While we set up the car for the upcoming races, I got to change the tyres, when it was all set up, I got to watch the racing right next to the drivers themselves before they went on to race," he said.
And for Ryan, the experience did not finish with the waving of the chequered flag on race day. Now that school has closed for the year, he is working at JMR Racing on work experience, helping out on the cars. But his sights are set on a career at the local dairy factory. "I hope to get a mechanical engineering apprenticeship there and Tools4work is definitely a good pathway towards achieving that."
Check out the photos on Facebook and hear from Dylan about his experience in the pit crew.