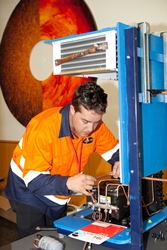 22 July 2016
Jock McVicar from Commercial & Industrial Refrigeration Ltd in Auckland is one of our talented industry leaders, who completed his National Certificate in Refrigeration and Air Conditioning (Level 4) in November 2015.
He pursued a career in refrigeration because he was attracted by the diversity of work and the challenge of learning the many aspects of the trade.
"I had previously completed an electrical apprenticeship and this complemented the refrigeration trade.
I started my apprenticeship in Whangarei and after two years I moved to Auckland to work at the specialized end of our industry. I was exposed to all aspects of the trade and have particularly enjoyed working on large industrial process cooling. I have worked on projects to optimize existing plants where relatively small capital is spent and huge improvements are made on equipment that has underperformed for years. Although it has often pushed me out of my comfort zone, the technical knowledge I have picked up has been invaluable."
Before moving to Auckland, Jock was a Firefighter with the Kamo Volunteer Fire Brigade in Whangarei. During his time with the organisation he was involved in large bush and house fires, car accidents and medical calls. This was when he realised the importance of working with a team you can trust and rely on in all situations.
Jock believes doing an apprenticeship is only the beginning of learning your trade.

"I consider it important to consistently show interest and enthusiasm in all aspects of the industry. Being multi-disciplined gives you great versatility within a company and keeps you competent with all systems. For me, what you put in is what you will get out of an apprenticeship.
Having a passion for the trade certainly helps, and putting in the hours outside of work to learn things you don't understand is not easy for everyone but the reward is well worth it. Building relationships with senior technicians and soaking up as much of their expertise as possible teaches your far more than what you can learn from a textbook."
"He definitely has diverse business interests and aptitudes. Not only is he already an excellent all-round tradesman, but he displays an ability to sell work to clients and he is entrusted by the business with quoting and managing small projects," says Commercial & Industrial Refrigeration Ltd General Manager Tony Jansson.
Jock's commitment to excellence was recognised at this year's industry awards, where he took out the Wallie Askew Memorial Cup. The competition pitted eight apprentices against one another in a variety of challenges designed to test their skills.
Not one to leave things to chance, Jock has already made steps towards securing his future.
"Since completing my apprenticeship I have worked towards further qualifications in the field and enjoy challenging myself where I know I can learn more.  Now, six months out from the completion of my apprenticeship I believe that I am a valued and very useful member of my workplace.
I aspire to pursue a role in management within the next five years and participate in growing the business to the changing industry."
Jock is currently nominated for the Future Business Leaders Awards, which is organised in conjunction with Got a Trade? Got it Made! Week (22-26 August 2016).
Got a Trade? Got it Made! is a national campaign to raise awareness of on-the-job training and careers in New Zealand's trades and services. It also celebrates the talents and achievements of young people making headway in their chosen vocation. 
Photo by Jayne Rapley, image courtesy of IRHACE.