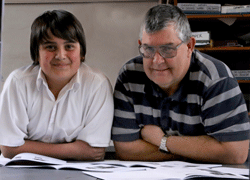 16 September 2015
For Rotorua Lakes High School Year 12 student Chas Taingahue, giving up on his dream of working in the forestry industry wasn't an option. As part of his school's work placement programme, the budding forestry worker interviewed at two forestry companies before being accepted at Red Stag Timber based in Rotorua.
Chas was determined to find a forestry company which would see beyond his small statue and see his passion and drive to work in the industry.
"I found it frustrating, but I got into a good place in the end. I'm really interested in wood manufacturing and engineering," Chas says.
Red Stag Timber saw potential in Chas and agreed to a one day a week work placement.
"The people were really nice and it was cool having a look into their jobs."
Chas grew up around the forestry industry. His father is a forestry truck driver and his grandfather also worked in the forestry industry.
Rotorua Lakes High School Year 12 Dean Martin Godfrey says there is a strong focus on forestry in Rotorua.
"We had five students doing work placements at forestry companies this year. There were nine students in total doing work placements in forestry, agriculture or horticulture," Martin says.
The workplace programme is for Year 11 and Year 12 students. Year 11 students go on work visits as an introduction to the primary industries. This year, students visited businesses such as Red Stag Timber, the Waiariki Mill, Timberlands and Hancock Forest Management. Year 12 students get to experience one day a week work placement in their chosen industry. This is where they gain real experience of the industry.
"The work placements have been wonderful and really beneficial for the students," Martin says.
"They set in concrete what students really want to do. It gives them the information to make that choice. Generally what they choose is what they want to do and their work placement reinforces this."
A strong advocate for trades, Martin believes more young people should look into a trades career.
"Schools cater for mostly university and not enough for a career pathway in the trades industries," he says.
"I'm a strong advocate for trades and these alternative programmes. These programmes just need to be within a budget that schools can afford. "
Chas is hoping to go into an apprenticeship in wood manufacturing after finishing school. He recommends other young people do work placements to experience an industry.