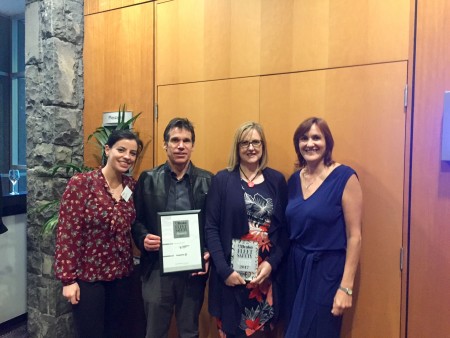 19 October 2017
The annual Fleet Safety Awards run by road safety charity Brake recognise the achievements of companies working to reduce the number of road crashes involving at-work drivers.
The Competenz health and safety committee took out the 'Safe Vehicle Award' sponsored by the New Zealand Transport Agency.
Competenz had done the most work to improve vehicle safety through comprehensive and effective checking and maintenance procedures, vehicle specification and modification, and use of technology.
We reduced speeding and improved safe driver practices by introducing GPS monitoring, regular vehicle inspections and servicing, regularly updating the fleet and providing safety equipment in vehicles. All vehicles hold a five-star safety specification.
NZ Transport Agency Director Safety and Environment Harry Wilson says: "We are delighted to support the Fleet Safety Awards this year and recognise organisations that are working hard to reduce incidents and improve safety. We congratulate this year's winner of the Safe Vehicles Award on their achievement and their dedication to road safety."
The winners were announced at Brake's annual reception for supporters in Auckland on 28 September.
The 2017 Fleet Safety Award winners:
Company Driver Safety Award, sponsored by SurePlan: DHL and MiX Telematics
Safe Vehicles Award, sponsored by NZ Transport Agency: Competenz
Fleet Safety Product Award: AA Motoring School, Fleet and Business
Road Risk Manager of the Year Award, sponsored by Suzuki: Matt Horan (Pacific Fuel Haul)
Outstanding Commitment to Road Safety Award: Dr Will Murray
Photo: Comeptenz health and safety committee members Lizzie O'Halloran, Gerard Robbins, Maree Lightfoot and Kirsten Jones.