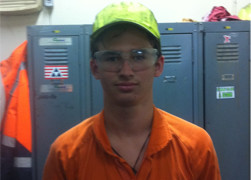 26 January 2016
A week's work experience at a local engineering company was all 18-year-old Anton Overy needed to convince him he wanted a career in engineering. The Aucklander has recently started a mechanical engineering apprenticeship at L & M Engineering in Stanmore Bay, Auckland. If you asked the ex-Auckland Grammar student what he was going to do after school at the beginning of last year, the answer would be he wasn't sure.
"Right up to term three last year I didn't know what I wanted to do after school," he says.
"My granddad was a fitter and turner so he got me some work experience at Aimecs Engineering. I really liked what they were doing in the workshop."
Anton started at L & M Engineering in December last year thanks to his school's careers office.
"The careers office was looking for students who were interested in doing an apprenticeship in mechanical engineering. I talked to Raoul [Britow – Competenz account manager] who suggested L & M Engineering. I had a look around the workshop and talked to the team there as well as talking to my dad and Raoul before agreeing to do the apprenticeship."
Earning while he learns has played a big part in Anton's decision to take on an apprenticeship, as did the chance to do practical work.
"I like working with my hands, and working with tools. Engineering is what I want to do. There's a big difference between school and work. I enjoy working because you're constantly doing things. You're not just sitting in a classroom all day," he says.
"A lot of my friends have gone onto university to do law and commerce degrees. Uni just wasn't for me."
The team at L & M Engineering have been supportive of the budding engineer.
"I'm enjoying working with the team. We have a bit banter in the workshop. The guys have a lot of knowledge and are really helpful."
Owner operator Leon Van der Walt says Anton has been a great addition to the team.
"He gets on well with the team. He picks things up quickly; you don't have to show him twice," Leon says.
"We went to Raoul last year wanting an apprentice. We interviewed Anton and thought he had a good attitude."
Anton's advice to students and school leavers thinking of doing an engineering apprenticeship?
"Definitely give it a shot. Do some work experience and see what you like."