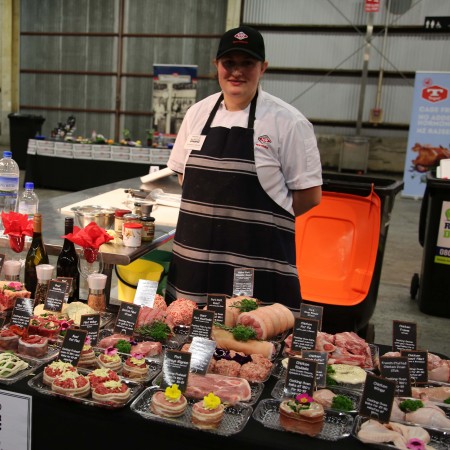 09 May 2018
Knives are being sharpened as the search begins for the best butchers in New Zealand, with entries for the 2018 Alto Butcher and ANZCO Foods Butcher Apprentice of the Year competition now open.
With the ability to put New Zealand's butchers on the world stage, this prestigious competition is the Oscars of the meat industry.
The competition has been running for three decades now with the titles being highly sought after by competitors.
Head judge Matt Grimes has been involved in the competition for 14 years and says the highly skilled butchers we have in New Zealand can be partly attributed to events such as these.
"The competition provides a platform for butchers to display their skills which are then passed on to their peers, so essentially a win-win for everyone in the industry not to mention Kiwis who end up buying more innovative and creative products," says Grimes.
Entrants, in both categories, will compete in one of three regional heats with the top butcher and apprentice in each area moving on to the grand final. In each category, another seven butchers will be selected, nationally, based on their regional scores to produce twenty finalists in total.
During the regional heats, each butcher must complete a practical cutting test in which they will have two hours to turn a whole boneless beef rump, full pork loin and a size 16 chicken into a themed display of value-added products, which all need to be cookable yet show that they can think outside the box.
The 20 butchers who make it to the grand final will then battle it out in front of industry representatives who will be interested in the potential of these butchers and what they bring to the table.
Last year's Butcher Apprentice of the Year, Samantha Weller from New World Rangiora, has continued her success and gone on to gain a second title, this time on the world stage. Samantha was titled 2018 World Champion Butcher Apprentice at the World Butchers' Challenge which was held in Belfast, Ireland, earlier this year.
"Competing in the Butcher Apprentice competition last year gave me the opportunity to take my career to the next level – one I never thought was possible. I got to travel to Northern Ireland and represent New Zealand, and that in itself was amazing. But to be named best in the world was a moment that I will never forget," says Samantha.
The grand final will be held at Shed 10 in Auckland on Thursday 6 September 2018. The winners, who each receive an international study tour, will be announced at a black-tie awards dinner following the grand final competition.
How to enter:
Entries to both competitions close on 29 June 2018. Enter via the Retail Meat New Zealand website.
Regional heats: 
Upper North Island – 14 and 15 July 2018
Lower North Island – 20 July 2018
South Island – 21 July 2018
Photo: 2017 Butcher Apprentice of the Year Samantha Weller.