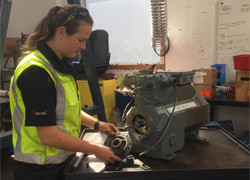 22 August 2016
When 19-year-old Rebecca Barr isn't racing stock cars at the International Speedway in Palmerston North with her father, she's working with the team at Excel Refrigeration & Air Conditioning in Hawera as a refrigeration and air conditioning apprentice. Working in a trade industry was an easy decision for the racing enthusiast.
"I'm happy with the choices I've made to get to where I am today. At the end of Year 12 I considered going back to school to complete Year 13, but instead I chose to leave school and complete a pre-trade qualification," Rebecca says.
"I was lucky enough to get a three month work experience placement with Excel, which resulted in being offered an apprenticeship position."
The former Hawera High School student saw the benefits of on-the-job training and realised it was more conducive to her style of learning.
"I prefer on-the-job training over classroom learning as its hands-on, and I believe most people learn a lot better this way. I find on-job training helps you learn different ways to complete tasks. This is because you have other work colleagues to bounce ideas off and to offer advice from their own personal experience. Excel offers a wide range of experience and opportunities to help me improve in the trade and in the industry."
Rebecca and the other apprentices at Excel are supportive of each other's training.
"I regularly discuss with the other apprentices about current jobs and shared learning experiences we encounter. This helps us all develop our skills and thought processes."
Currently the youngest female superstock driver in New Zealand and the first female to win a championship event in the adult superstock contact class, Rebecca's passion for racing cars fuelled her passion for her work at Excel.
"I'm looking forward to the future and completing my apprenticeship to the highest standard I can. I'm excited about developing my personal growth and knowledge," she says.
"After my apprenticeship there are opportunities to do an advanced trade and specialise in electrical and design. This to me is a great way to advance in my career."
Rebecca is a Got a Trade? Got it Made! Future Business Leader.
Got a Trade? Got it Made! is a national campaign to raise awareness of on-the-job training and careers in New Zealand's trades and services. It also celebrates the talents and achievements of young people making headway in their chosen vocation.