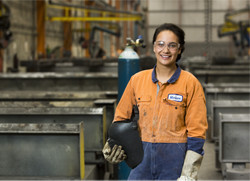 15 August 2016
Before engineering, 24-year-old Marlane Harmer had multiple part-time jobs in hospitality before starting a mechanical engineering apprenticeship at Ravensdown Fertilisers, Napier. It was through a chance encounter while working at a local pub that was the beginning of her dream career.
"I was a barmaid at a local pub when I ended up having a chat with Rob Miller (Maintenance Manager at Ravensdown)," Marlane says.
"I was handing out CVs everywhere but not having much luck. Rob said he'd put in a good word for me. I had one printed CV left when I applied for the apprenticeship in July last year. I guess it was lucky last for me."
Half way through her apprenticeship, the mother of one believes practice makes perfect.
"I go to great lengths to make sure my welding is good. I've learnt so much already. I used to do things half-pie, but now I do my work more thoroughly," she says.
"I've learnt so much from people in my workplace. I've been shown different ways to solving problems that may occur in maintenance engineering. I'm really thankful to everyone who has helped me get to this point in my career."
Marlane hopes to one day be a qualified underwater welder.
"I'd really like to be an underwater welder someday. I met an old gun at The Elbowroom Sports Bar when I was doing my pre-trade qualification at the Eastern Institute of Technology. He used to be an underwater welder. He took me under his wing and taught me the basics in welding which helped me a lot and boosted my confidence."
Last year, Marlane won the Competenz Stuart Tolhurst Apprentice Trophy at the SKF National Maintenance Engineering Conference. The award, which celebrates the achievements of an apprentice who has shown good work ethic and initiative, confirms for Marlene why engineering is not just a job, but a passion.
"I love my job as a mechanical engineering apprentice. Nothing is boring; there's always something new to learn, even on the dirty jobs. I probably get dirtier than anyone else. I love to get right into what needs to be done."
Over the last three to four months, Marlane's whānau having been gathering together to celebrate family member's achievements as well as setting up workshops.
"The workshops are about teaching the younger and older generations new things, and passing down our knowledge that could benefit our family. I'm hoping to teach some basic welding lessons sometime this year."
Her advice to others thinking of doing an engineering apprenticeship?
"Give it a go. And when you do decide to do an apprenticeship, give it all you've got. Learn as much as you can. Gain as much experience as possible."
Marlane is a Got a Trade? Got it Made! Future Business Leader.
Got a Trade? Got it Made! is a national campaign to raise awareness of on-the-job training and careers in New Zealand's trades and services. It also celebrates the talents and achievements of young people making headway in their chosen vocation.