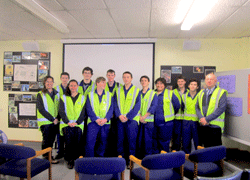 07 July 2015
A successful Gateway programme between secondary school Waiuku College and local employer New Zealand Steel is a good example of how schools, companies and our Competenz team can help young people understand the trades careers available to them and help businesses recruit and train talented youngsters.
"As the major employer in the region we're keen to support our local community by giving NCEA engineering students at Waiuku College a chance to see what's involved in an engineering career," says Peter Walker, Maintenance Contracts Superintendent at New Zealand Steel (part of the BlueScope Steel Group).
"Each year we offer around six local students a week's work experience during their school holidays."
That week is an opportunity for a young person to learn. It's also a chance for them to stand out from the crowd. If they show the attitude New Zealand Steel are looking for, they could soon be gaining the skills that will set them on the path to a worthwhile career. In 2015 New Zealand Steel took on four Waiuku Gateway students as Competenz apprentices.
"These Gateway placements are a chance for us to have a good look at these students," says Peter. "We want young people who can apply themselves and are keen to learn."
Waiuku College Gateway Coordinator Briar Tuialii agrees. "It's all about attitude. All the employers we deal with are looking for young people who want to get stuck in and learn. They need to be able to work with the team onsite. And they need some experience with equipment – which is where their NCEA engineering studies kick in."
Briar says the school has built a good relationship with New Zealand Steel over many years. "We've had some really useful conversations. The New Zealand Steel team has helped us understand what they're looking for, how their current apprentices are working out, and how our school can help prepare young people for a career in the trades."
Please contact the Competenz careers team if you would like more information about the Gateway programme.