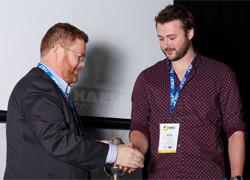 19 December 2016
For 21-year-old mechanical engineering apprentice Jamie Noakes, winning the Competenz Stuart Tolhurst Apprentice Trophy at this year's 2016 SKF National Maintenance Engineering Conference (NMEC) in Hamilton was a huge surprise.
"I was overwhelmed; I didn't think I would win. It was a good confidence booster, and good reassurance knowing that I'm doing well," Jamie says.
The former Francis Douglas Memorial College student found early on at school that he had a knack for engineering.
"At school I did metal technology which I really enjoyed. I found that I was good at it. I won a few awards at school," he says.
"I did the careers pathways programme in Year 13 - three days in work experience and two days in the classroom. Two of the work experience days I was working at Croucher and Crowder Engineering, and the other day was spent at a welding course at Western Institute of Technology at Taranaki. I really support the school in what they're doing with the programme."
Getting a taste for the working life, Jamie decided the university route wasn't for him.
"All through school I thought I would go to university like my older sisters. A lot of my mates in Taranaki are doing apprenticeships; a handful are doing engineering. I had a few mates who went off to university and now need a job. An apprenticeship is a good opportunity to earn and learn. You can always do a degree later on in your career."
Jamie enjoys the variety of work he gets to do as an apprentice at Croucher and Crowder.
"Doing an apprenticeship you're not stuck in the workshop all day, you're doing a lot of different work all the time. Everyday you're learning new skills. Once you get your head around the core engineering principles, these skills can be crossed over into different jobs, even the odd job at home."
With only four months left of his apprenticeship, Jamie is looking forward to what the future holds for him.
"Once I finish my apprenticeship, I would like to stay at Croucher for a few more years and possibly do a level 6 qualification, before going overseas to travel for a bit. Eventually I would like to work my way up to a management position."
Croucher and Crowder Site Supervisor Alan Good says Jamie has a promising career ahead of him.
"In the last 12 months Jamie's leadership skills have been outstanding for a young guy. I have a small team, and when required he takes charge when needed," Alan says.
"The team at Croucher are really pleased with his win. I rate him very highly."
Jamie's advice to young people thinking of a career in engineering?
"Employers are looking for people with hands-on experience, particularly when you're trying to get supervisory jobs. But most importantly, employers are looking for people with the right attitude. The more you learn on-the-job, the better you're going to be."
Photo (left to right): Competenz Industry Engagement Manager Bill Sole congratulating Jamie at the awards ceremony.