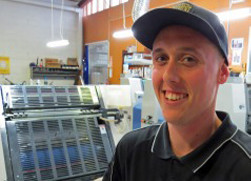 24 August 2016
Print graduate Andrew Jenkins was a shy kid growing up. Now he is in a senior role at his company and his confidence and leadership skills are on the rise.
The 23-year-old Production Manager at Quality Print was working at a supermarket when he was encouraged to hand his CV into a print shop in town who was looking for a print apprentice.
"I looked on the internet for information about a 'commercial printer' as I had never heard of the term before. I was intrigued about what I saw and decided to ring up and ask about the job. I was given a tour around the building and quickly learnt that just "pressing the button" was not the case here. The high standard of work I saw made me think that this was something I could see myself doing.
"I learnt that all the products I had been stacking on shelves over the last six years had been produced by people like me. People who have a passion for print and to produce quality work. A lot of people think that print is dead and it's an old out-of-date process, but it is very much alive!"
Andrew has now completed his print apprenticeship and begun a Diploma in Print Industry Management.
"My biggest achievement so far would be completing my apprenticeship and being a finalist in the Print Apprentice of the Year 2016 awards.
"A trade was always something I was looking at doing; earning while you learn was something that appealed to me. I have learnt so much in the last four years that will help me achieve the goals I've set for myself personally and professionally. I have enjoyed every part of the journey so far."
Andrew's employer saw potential in the print graduate and promoted him to the role of Production Manager not long after he completed his apprenticeship.
"In my 30 years of printing, Andrew is the most outstanding apprentice I've had the pleasure of training. He is aware of his priorities, and he cares about the bigger picture of production more than most staff I have worked with. I'm very excited to continue helping Andrew grow in his career and see him prosper within the company," says Quality Print Director Shawn Vennell.
At the end of 2015 Andrew and his partner bought their first house.
"Without the leadership skills and confidence I have gained from my apprenticeship and workplace, I wouldn't have felt confident in the negotiation or purchasing process."
Andrew's advice to his younger self?
"Don't be afraid to make mistakes. If you don't try and fail then you won't learn and succeed."
Andrew is a Got a Trade? Got it Made! Future Business Leader.
Got a Trade? Got it Made! is a national campaign to raise awareness of on-the-job training and careers in New Zealand's trades and services. It also celebrates the talents and achievements of young people making headway in their chosen vocation.