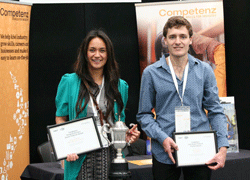 19 November 2015
Engineers from across the country made their way to Hamilton this week for the 2015 SKF National Maintenance Engineering Conference (NMEC).
This year's conference focused on developing future engineers; encouraging apprentices and students into a lifelong career in the engineering industry. Announced at the conference awards ceremony were the recipients of the Competenz Stuart Tolhurst Apprentice Trophy and the Bill Buckley Engineering Scholarship.
"I was blown away by the win. It's really cool, such a great feeling. I'm really thankful to everyone who has helped me get to this point in my career," says Trophy winner Marlane Harmer.
"I love my job as a mechanical engineering apprentice. Nothing is boring; there's always something new to learn, even on the dirty jobs. I probably get dirtier than anyone else. I love to get right into what needs to be done."
The Trophy celebrates the achievements of an apprentice who has shown good work ethic and initiative to continue learning and pursuing their passion as an engineer. The Scholarship awards up to $5,000 to an engineering student to go towards their tuition fees.
Maintenance Engineering Society New Zealand (MESNZ) secretary and NMEC event director Craig Carlyle says MENSZ understands the value apprentices add to the industry.
"At every level, young people help us lift our game and that has to be a good thing. The SKF National Maintenance Engineering Conference is a one-off opportunity to mix old heads with new apprentices, and showcase the best there is in engineering solutions," Craig says.
Competenz National Manager for Engineering Amit Kumra says the event is a great opportunity for businesses to interact and celebrate success within the industry.
"The conference gives employers the opportunity to discuss what's going on in the industry, such as new technologies and how they train their employees. It also inspires young learners to meet with employers and learn more about the industry," he says.
Hosted by the Maintenance Engineering Society of New Zealand (MESNZ) and supported by Competenz (the Industry Training Organisation for the engineering industry), the two-day conference brought together over 60 industry suppliers exhibitions, informative sessions, and a panel of guest speakers.
The conference was held at the Claudelands Events Centre, Hamilton on 18 and 19 November. For more information, please visit the MESNZ website.
Photo (L-R): Competenz Stuart Tolhurst Apprentice Trophy winner Marlane Harmer and Trophy runner-up Ben Peffer.