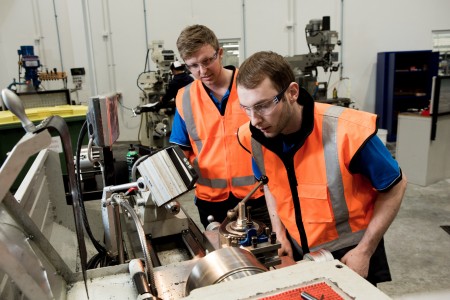 29 March 2018
Ryan Howard intended to go to university like his siblings, but after seeing the huge student debts his sisters were amassing, he changed his mind and enrolled in an apprenticeship – a decision he has never regretted.
Ryan is in the final year of his mechanical engineering apprenticeship in toolmaking and has worked at plastics giant Sistema for four years. He started his apprenticeship a week after starting at the company.
"Although I had worked on tools before I came to Sistema, I didn't know much about it as a career path. But it was something I really enjoyed and when the opportunity came to do a toolmaking apprenticeship, I jumped at it."
Ryan's parents are very supportive of his chosen career. Both are "tradies" and know what's involved.
"Dad is a scales technician and Mum is a bookkeeper. While my sisters went to university, I knew I didn't want the burden of a student loan. I feel like I've been given a head start on my career and my life. Dad said doing an apprenticeship would be hard but totally worth it. And he was right."
There are about ten toolmakers at Sistema, with many of them clocking up 20-plus years in the job. Ryan says having such experienced people around him at work has helped with his learning.
"There is a lot of 'old knowledge' on the floor. And these guys know how to teach – they don't give you the answers, you have to figure it out for yourself. But they're always on hand to help and that's been brilliant for getting through the assignments and other tasks. Competenz has also been really helpful. Like my work mates, if you're stuck they make you think of the answer rather than giving it to you. I've gained such valuable knowledge that way."
Ryan says he loves the variety in his job. While his main role is problem solving and trouble-shooting moulding equipment, he is called upon to help in all aspects of the plastics moulding process.
"Every day is different. A die-setter may call me out to sort a moulding or tooling fault. I need to diagnose the issue – often that involves pulling the machine to bits, finding the problem and then fixing it. I also work with the new equipment Sistema brings in – we've got new six-axis robots that are very cool and other CNC (Computer Numerical Control) machines, which I have to learn how to programme. It's challenging but really stimulating.
"Toolmaking is such interesting work and has a lot of diverse aspects to it that use different skills. While it's very hands-on, it also stimulates your brain. And you're never stuck in one spot – you're constantly moving around working on new or more complex tooling machines. Someone who likes to be hands-on and who is mechanically minded would enjoy this trade."
Ryan has a clear idea of where he's heading once he qualifies. "I enjoy toolmaking and can see myself moving up within the company into a management position. I'd like to train apprentices – give back to them what was given to me. A great set of skills and a great future."
Photo: Ryan Howard is in the final year of his mechanical engineering apprenticeship in toolmaking at Sistema.