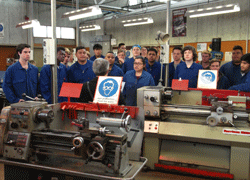 12 October 2015
Waitakere College's trades academy has grown from strength to strength since it started last year and has no plans on slowing down.
Twenty-two Year 12 and Year 13 engineering students are taking part in the school's workplace programme. Three of the students have interest from employers who've offered them jobs or apprenticeships.
"The students are really keen on the work placement. They can see that it benefits them. One student this year had only been in his work placement for a few weeks and the employer has already lined him up for a job. They're prepared to wait until he finishes school if he decides to come back next year," says Waitakere College Academy Administrator John Kidd.
"We've got students in well-established businesses such as Fulton Hogan and Viking Ironcraft. Some of the students have been offered job opportunities out of the work placements and the other students see the potential in this."
The students do work placement for one day a week in terms two and three in Year 12 and 13. They have done around four terms of work placement experience by the time they finish school. Many are offered paid employment during the school holidays.
"Students get to try before they buy into something. And employers get to try before they buy too," says Head of Department (HOD) Vocational Pathways Karen Carter.
"All students are interviewed for work placements. This year out of our school we have had approximately 220 students go outside school into work placements or to tertiary based learning."
The engineering students are also doing a welding course at Unitec Institute of Technology (Unitec).
"For the first time this year the students are doing a one-term course at Unitec where they're doing welding and fabrication," HOD Engineering Bruce Scott says.
Karen believes the academies allow students to be academically successful and also provide opportunities for a career pathway.
"Not all students are destined for university. About seventy percent of our students are not going to be university-bound from school. The programmes that are the best fit for the individual students is the emphasis. The trades academies, Gateway and our retail programme can be the driving force to academic success for these students," she says.
"The student's passion actually drives the outcome in the end. Attendance and academic achievement benefits because they have purpose."
Waitakere College Trades Academies
The trades academies comes under the Auckland West Vocational Academies which is part of the government funded trades academies initiative. Students in these academies are working towards their National Certificate Level 2 as well as gaining valuable work experience.