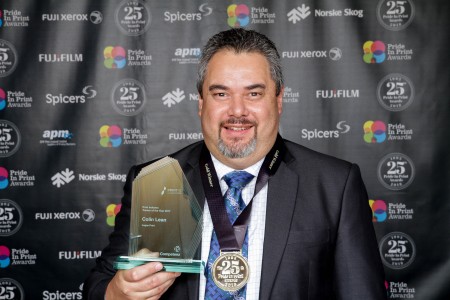 17 May 2018
Colin Lean of Logan Print took out the Trainer of the Year award at the annual Pride In Print awards night, celebrating success in New Zealand's print industry.
PrintNZ General Manager Ruth Cobb said Colin, who has previously been named both the Top Level 3 Completion Sheetfed Trainee and Sheetfed Apprentice of the Year, "leads by example and is a worthy winner of the Trainer of the Year Award".
"Colin has continued his education with the Diploma of Print Management, while at the same time championing 12 apprentices through the business, including an Apprentice of the Year finalist."
Noting this year was the first time his Gisborne-based company had entered the Trainer of the Year Award, Lean said the win was a "great honour" while also playing down his contribution.
"I am only a small part in our company's training team, so I was proud to represent the whole team at Logan Print," he said.
"Our current apprentices are mentored daily by our former apprentices on the production floor. This support extends to our production engineer, pre-press team and senior guillotine operators.
"Of the 12 apprentices I have helped train at Logans, nine are still with us, which shows we are doing a great job and our staff want to be here. I hope we can do this for more apprentices going forward."
Asked if he had any particular philosophies in regards to training practice, Lean added that he enjoyed working with the apprentices and Competenz account manager Malcolm Pearce, "to set realistic goals and then support the trainees to reach these goals".
"One-on-one training sessions, using live jobs as training tools, are a great way to help them through their training."
Photo: Colin Lean from Logan Print