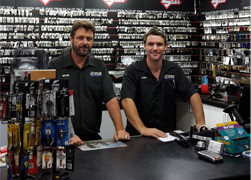 12 May 2016
For Auckland Lock Services owner, Bryce Frewin, training an apprentice is not only great for his business; it's a privilege to train the future of the locksmith industry. Bryce began as a locksmith apprentice when he was 16, starting a career pathway which sees him today as a business owner of 20 years.
"Doing an apprenticeship means you get a qualification that's nationally recognised," Bryce says. "The training programme is an advantage for me because it gives my apprentices a structured way of learning. They learn exactly what they need to learn and to a high standard. If I have someone come in who wants to work for me, and he's done a locksmith apprenticeship, I know he has the skill set to do the job."
"The team at Competenz do a lot of the leg work when it comes to managing the training for our apprentices. It saves me a lot of time."
An apprenticeship plays an integral part in signing on new employees.
"In our letter of employment we stipulate that if you're suitable to do an apprenticeship, you'll be offered one," he says.
Bryce had an employee who never gave up his dream of being an apprentice.
"I had one guy who was so keen to be an apprentice; he kept pushing me to give him a chance. There were a number of reasons why I was hesitant at first, but I decided to give him a shot. He's now come back to work for me after finishing his apprenticeship five years ago."
Like with many trade industries, technology continues to have an impact.
"Being a locksmith is not just about cutting keys. There's a lot of electronic work to do as well. We're getting a lot more remote controls coming through our store. Technology is changing the industry, and we have to adapt to these changes."
With a shortage of locksmiths throughout the country, Bryce says it's important that other locksmith businesses take on apprentices.
"I know a lot of people in this industry, and I ask them 'Why don't you have an apprentice?' Five years into running my own business I brought in apprentices," he says.
"I highly recommend apprenticeships. Most locksmiths started as apprentices, so pay it forward and give someone a chance to do an apprenticeship as well."
Photo (left-right): Bryce Frewin and locksmith apprentice Cory Jensen.