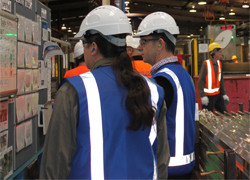 02 June 2016
Kiwi businesses committed to improving their performance will experience greater benefits since the introduction of the new Competitive Systems and Practices (CSP) qualifications.
The new qualification provides a holistic approach to improving organisational efficiency through staff development, delivering a more competitive advantage and ensuring long term business sustainability.
The qualifications were developed in partnership with the manufacturing industry and the industry training organisation Competenz. Members of the manufacturing industry played a leading role in ensuring the new qualifications are fit for purpose for all New Zealand businesses.
"The qualifications open the door for all businesses, not just the manufacturing sector. Whether it's a hospital or a catering firm, the skills learnt through these qualifications are applicable to all," says John Stephens, Master Lean Six Sigma Black Belt - Principal Business Improvement at Pacific Aluminium and member of industry governance group working with Competenz to design the new qualifications.
"Businesses can improve their bottom line from simple waste reduction activities. Employees have access to tools and processes that their businesses can prosper from."
Training in the new qualifications allows for a more efficient and streamlined process.
"The new qualification extends across a broad range of competitive systems and practices, including strategic thinking, process development and technology implications," says John Sullivan, INTENT Group Limited Trainer Assessor, Consultant and training provider of the new qualifications.
"It aligns improvement techniques between different departments, and provides a pipeline of learning so each function can better understand how other areas work. It will provide people with the skills, knowledge and tools they need to help transform their business."
Strong industry representation has helped the Competenz team to appreciate the technical skills required.
"We noticed a trend of many organisations, across multiple sectors, embarking on a Lean journey, and using Lean practices to improve their business' efficiency," says Mathew Vandy, Competenz Industry Manager for the manufacturing sector.
"It's a collective way in which businesses can analyse their systems, processes, and products by implementing tools and a methodology to achieve efficiency, as well as sustain ongoing improvements. One of the greatest benefits from the new qualifications is how they improve the culture within a business," Mathew says.
The CSP qualifications continue to align to the Australian equivalents, and are recognised as part of a Trans-Tasman agreement between both Governments.
More information
Please visit the Competitive Systems and Practices webpage on the Competenz website or contact our Customer Services team on 0800 526 1800.