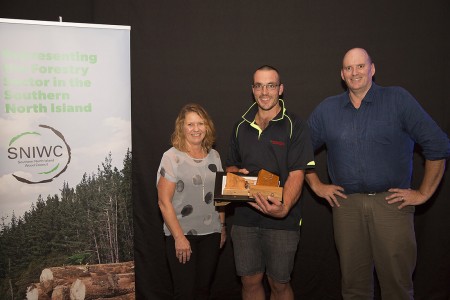 03 July 2018
Troy Davies from Bushline Forest Harvesting was named Apprentice of the Year at the 2018 Southern North Island Wood Council Awards.
The award, sponsored by Competenz, was one of ten awards presented at the event on 11 May to celebrate forestry success in the region.
Troy has worked for Bushline Forest Harvesting for the past three years. He recently completed his Competenz forestry apprenticeship and is now a Head Breaker Out for the company.
"I literally finished my last paper a month before the awards night," says Troy. "The programme I was on involved training on the skids, the dozers and other forestry equipment. Now I've finished my apprenticeship, I've got more responsibility but the learning doesn't stop there. There's more training on the horizon and I'll be looking to get more qualifications on other aspects of the forestry industry."
Troy says he was shocked to receive the award. "I was really surprised. My work colleagues had been telling me I would win, but I didn't believe them. It was a real honour and to win Apprentice of the Year was awesome."
For anyone considering an apprenticeship in the forestry industry, Troy says "go for it".
"It's definitely the way to go! A Competenz apprenticeship is great for anyone, especially school leavers and a great way to ease into the industry."
Troy enjoys forestry, especially the physicality of the job. "I love being outdoors, being in a physical environment and I work with a great crew – that makes the day go really well."
For now, he is "pretty happy" with where he is at. "I'll keep working towards another qualification and if any opportunities come along, I'll take them."
The awards night was attended by 285 people who were entertained by Kiwi funnyman Te Radar.
Awards:
Training Excellence
Trainee Of The Year 2018 - Dan Kyle (Horne Brothers, Masterton)
Apprentice Of The Year 2018 - Troy Davies (Bushline Forest Harvesting)
Training Company/Contractor Of The Year 2018 - Horne Brothers (Masterton)
Skilled Professionals
Harvesting Excellence 2018- Aaron Baumer (Dawson and Havard, Masterton)
Forestry Excellence (Silviculture) 2018 - Waisake Sabutu (Wairarapa Forestry Services, Masterton)
Distribution Excellence 2018 - Craig Allen (C3, Masterton)
Industry Excellence
Contractor Of The Year 2018 - Dawson and Havard (Masterton)
Outstanding Health and Safety Management 2018 - Taranaki Safe Start (Stratford)
Outstanding Environmental Management 2018 - Dawson & Havard (Masterton)
Contribution To The Forestry Industry 2018 - Bert Hughes (Forest Enterprises Ltd, Masterton)
Photo: Apprentice of the Year Troy Davies with Christine Ewart and Russel Riley from Competenz.