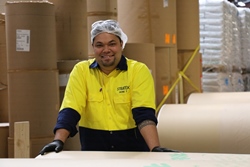 17 August 2016
Working in the print industry was an unexpected career for Sione Taueli Tonga, but he knew immediately that this was where he wanted to be.
The 33-year-old married father of three started at Auckland-based printing company Stratex NZ as a machine operator. Now, four years later, he is an award-winning senior printer who has proven time and time again that hard work pays off.
"Deciding to undertake an apprenticeship was an easy decision. Before coming to Stratex, I would do whatever work was available, including fork hoist driving, picking and packing food, unloading containers and much more. I would do anything to support my family. But now that I'm a qualified printer, I feel like I can provide for my family and their future."
Sione won the coveted title of Print Apprentice of the Year at the Pride in Print Awards in Auckland earlier this year.
"When I told my family about the award they were really proud of me, as well as my colleagues. Every morning when I wake up, I'm proud to come to work at Stratex. I'm really happy to be here. I'm grateful to Stratex and the Print Manager Ross Halliday for giving me the chance to further my education."
Sione finished his print apprenticeship last year, and has just started a Diploma in Print Industry Management (Level 5).
"My goal is to one day become a manager running a department. It's every Pacific teenager's dream to become a boss in a company, especially for someone like me, starting with nothing to becoming something."
As well as spending precious time with his family, Sione loves singing – a passion he's enjoyed since he was young.
"Before becoming a printer, the only thing I knew I was good at was singing. I took opera singing lessons while in high school back in Tonga so that I could be the lead singer when I was just 13-years-old. Now I am the lead tenor in a choir of around 200 members."
Sione's advice to anyone in his situation?
"Don't give up, keep working, there is always a way around any problem. Use every chance given to you as a step forward. Don't take your chances in life for granted."
Sione is currently nominated for the Future Business Leaders Awards, which is organised in conjunction with Got a Trade? Got it Made! Week (22-26 August 2016).
Got a Trade? Got it Made! is a national campaign to raise awareness of on-the-job training and careers in New Zealand's trades and services. It also celebrates the talents and achievements of young people making headway in their chosen vocation.