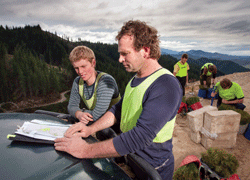 18 May 2015
Competenz manages qualifications that cover all aspects of forestry, from establishment to harvesting. The new forestry qualifications have been approved and are listed on the New Zealand Qualifications Authority (NZQA) website. But, that's only the first step in a much larger process. Each qualification requires a training programme and unit standards to support it.
"We're currently working through the process of the gaining NZQA approval for our training programme. And, unit standards are also being reviewed to ensure that they're up to date and meet the needs of industry," says Richard Cowper, Industry Manager for Forestry at Competenz.
So far, 72 unit standards have been reviewed and work is underway on 84 more. Forestry units have been updated regularly, so little change will be required.
Our Learning and Innovation Team has also begun a full review of assessments and workbooks for the forestry industry. And, new resources will progressively be available through the year. This is a very thorough review that will continue well into next year.