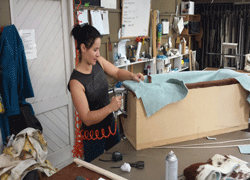 18 August 2015
For 31-year-old Kirsty Woolley, being an upholstery apprentice is finally a reality. The mother of four started her apprenticeship in February this year with Withers and Borwick Upholstery in Silverdale.
"I've been looking around and I couldn't find anyone who was offering an apprenticeship," Kirsty says.
"I saw this job (trainee upholster) being advertised. I came in and I got the job. They were open to me doing an apprenticeship."
Kirsty has grown up in the furniture business. Her father ran new and used furniture stores which ignited her love for upholstery.
"I've always liked furniture. It's something that's interested me and I wanted to do it. I've been doing it at home out of my shed before getting my apprenticeship."
Despite only being in her first year of her apprenticeship, she's already learnt a lot from her training.
"I've learned to work things out and to plan ahead. I'm doing mostly home furnishings at the moment. I'm hoping to go into car upholstery and boat upholstery in the future," she says.
"I'm trying to pick up as many skills as I can and retain them. You need to learn everything like how a piece of furniture is constructed as well as how to upholster it."
Working in a male-dominated industry, Kirsty hopes more women take on a trade career.
"The industry is very male-dominated. I definitely think more women should get into the trades industries. You can still work it around having kids because you can do it on your own terms if you've got your own trade."
Her work colleagues have been supportive of Kirsty throughout her apprenticeship.
"The team are really great. If I need time off because it's something to do with the children, they're really flexible," she says.
"Mike Broadfoot (head upholster) has been teaching me and he's been fantastic. He's got lots of years of experience and he's easy to work with. It's the first time they've taken on an apprentice so it's been really good."
Withers and Borwick Upholstery owner operator Gary Withers says Kirsty is an integral part of the team.
"She's been really great, just fantastic," Gary says. She's found her own way into the apprenticeship and she fits in well with the team."
Kirsty sees a long-term career in the upholstery business.
"I'm hoping to work part-time once I've finished my apprenticeship. It's something I can work around the kids," Kirsty says.
Kirsty's message to young people who want to do an upholstery apprenticeship is not to delay registering your interests with local businesses which may be looking for an apprentice.
"Just start it; the sooner the better. Learning on the job is a lot of fun."
The National Certificates in Upholstery
Competenz is the industry training organisation for the Upholstery industry. To learn more about the six national certificates in Upholstery and related business training, please contact Laurie Irving, Account Manager - Furniture l.irving@competenz.org.nz