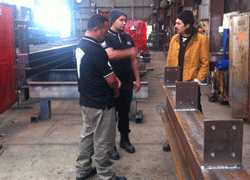 15 October 2015
Competenz recently hosted students from Unitec Institute of Technology (Unitec) on a tour around Auckland-based fabrication facility Jay Cee Welding as part of the Māori and Pasifika Trades Training Initiative.
Three Unitec students were offered work experience over the study break.
"The owner asked where they were from. His wife is Māori so he made that connection with the students," says Māori and Pasifika Trades Training Relationships Manager Rangi Williams.
"The owner said he had been burnt before with apprentices, but if they were willing to stick around and commit to the work, he's willing to take them on. The students asked if there was any work experience available and that's when he offered the opportunity to them."
The students are doing a one-year Certificate in Applied Technology (Welding and Fabrication) course which they started in July this year.
Jay Cee Welding owner John Fraider says the students were willing and keen to learn.
"I asked them if they wanted work experience. We were prepared to help them," John says.
"The students came across with a good attitude and had done some homework. If we got people like these students, they would get taken on pretty quickly."
Contracts Manager at Jay Cee Welding Mike Vinkenvleugel, who took the students on the tour, says he rates all three of the students as 'pretty good prospects'.
"They all had really good attitudes. They knew what they were looking at and seemed interested," Mike says.
"We've currently have two apprentices. We need to get more young people interested in trade skills. The only way the industry is going to continue is getting more young people through."
Competenz Māori and Pasifika Manager Iani Nemani says students need to be confident in making the first step into a trades career.
"It's important that they start thinking about the career pathway they want to take. We're here to support them into an apprenticeship or a job. We can show them the path, but it's up to them to walk it. This is what this event is all about; giving these students the tools to make that next step."
About the Māori and Pasifika Trades Training Initiative
The Māori and Pasifika Trades Training: Auckland Initiative currently has around 520 students who are supported by industry training organisations (ITOs) like Competenz, polytechnics and industry into a career in trades.