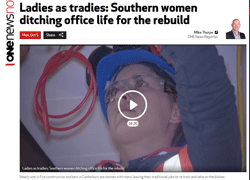 07 October 2015
"It's like that slogan, if you've got a trade, you've got it made." For Joy Lalahi and many other women working in trades in the Canterbury area, these words couldn't ring any truer.
Seven Sharp recently aired a story on the growing trend of women retraining in trades careers and followed five women who are taking on the guys in this male-dominated industry.
Watch 'Ladies as tradies: Southern women ditching office life for the rebuild' here.