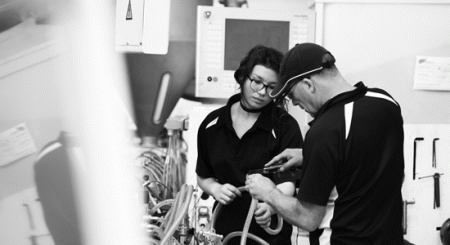 30 April 2015
One group of New Zealanders continues to be heavily under-represented among our ATNZ apprentices: women. At the end of 2014, only three of the 389 apprentices on our ATNZ books are female.
Why are there so few women in the trades? One of our ATNZ account managers summed up a major reason neatly when he said: "You can't be what you can't see."
So in 2014 we've started making people aware of the opportunities for women in the trades. We've talked about the value – to businesses, New Zealand and women themselves – of increasing the number of trades-qualified women.
For example, we 'busted' the myth that 'trades are for boys' at three careers expos and before 800 careers teachers at the annual Careers and Transition Education conference, by showcasing women enjoying successful trades careers.
We've also showcased successful women apprentices. Ashton Fleming's story featured in a career guide inserted in 170,000 copies of the Sunday Star Times.
We will continue this work in 2015, and promote the trades as valuable careers among other under-represented groups too, including Māori and Pasifika school leavers.
Women can do a trade if they really want to. Explore, try new things and keep pushing yourself. Anything is possible.
Picture: Robyn Nicholson, ATNZ plastics apprentice, Profile Polymers Ltd, Hamilton