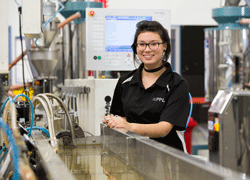 12 May 2015
A plastics apprenticeship with Hamilton-based Profile Polymers is proving to be the opportunity Robyn Nicholson was looking for 'to explore and try new things.' "I really wanted to try something different and push myself to see what I could do," says Robyn. "This is pretty different and I like it."
The plastics industry offers many opportunities to work in different areas, from die manufacturing to extruding to injection moulding. For Robyn a typical day involves trialling dies, checking for the right flow and consistency, and modifying shapes and sizes. She's set her sights high and is learning AutoCAD so she can design dies herself.
Like many young people, Robyn was unsure what she wanted to do. However, with the foresight to know that trade skills would set her in good stead, she embarked on a pre-trades mechanical engineering course with ATC New Zealand.
A good track record of study and a meeting with Competenz account manager Roy Adams led to an apprenticeship with Profile Polymers. According to Roy, Robyn is "a top example of a young woman getting ahead in a trade".