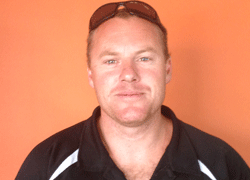 02 September 2015
Thirty-five-year-old Daniel Jordan likes a challenge. A service technician at Judd Refrigeration Ltd in Palmerston North, Daniel completed his second apprenticeship at the end of last year and doesn't intend to slow down anytime soon.
"I've done a heating, ventilating, and air conditioning (HVAC) apprenticeship (he completed in 2009) through Cowley Refrigeration and I've done a refrigeration apprenticeship through Judd Refrigeration," Daniel says.
"I'm in discussions at the moment to do my advanced trade, so that will be the next step. It's a level 5 diploma. It's more advanced trades training with management skills."
Originally working in pipe welding, Daniel saw the opportunity to work in the refrigeration sector.
"I used to make refrigeration systems and I was always curious as to what I was doing. The company that I was contracted to weld for offered me an apprenticeship and I jumped at the chance. I decided to change over to refrigeration and it just followed on from there," he says.
"It's something that I was passionate to learn about. It seemed challenging so I wanted to give it a go. I've learnt diagnostic skills and now have the confidence to think outside the box."
In May this year, Daniel competed in the Wallie Askew Workskills competition where he came third. The competition tests the theoretical and practical skills of top refrigeration and air conditioning apprentices.
"The competition was very daunting. I always said that if I was going to do a refrigeration apprenticeship then I was going to enter," he says.
"We had to bend up a section of pipework to spell out the word chill. We then had to connect that up to a refrigeration unit and actually make it work."
The team at Judd Refrigeration have been supportive of Daniel throughout his apprenticeship.
"I couldn't ask for a better team to work for. Darren Judd has been the best boss I've ever had. He's a brilliant guy."
Judd Refrigeration Company Director Darren Judd says Daniel has a great work ethic and is always willing to learn from his colleagues.
"Daniel didn't come into his apprenticeship completely new. He already had a background in trades so he took to the work really quickly," Darren says.
"He was very dedicated to his paperwork and finished all his theory work before he finished the rest of his apprenticeship. He has a really good attitude and fits in well with the team. He's not afraid to ask for help from the guys and they ask him for advice as well."
Daniel thinks more young people should take on an apprenticeship.
"I obviously started a bit later but my advice is, give it a go. You can learn things about yourself by doing an apprenticeship," Daniel says.
IRHACE, the Institute of Refrigeration Heating and Air Conditioning Engineers, has been running the Wallie Askew Workskills competition for 17 years.