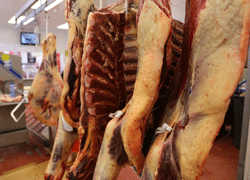 23 June 2015
With the Auckland Regional Competenz Apprentice Butcher of the Year competition just around the corner, Māori Television will be profiling six Māori butchery apprentices over the coming month. 
Showcasing their skill and determination to win the top prize of apprentice of the year, the six apprentices have been sharpening their skills at home, at whanau events and on the marae.
Our butchery apprenticeship is a combination of on-job and distance learning with an off-job block course once a year. The apprenticeship takes around three to four years to complete. We had nearly 100 butchery apprentices complete their apprenticeship last year and currently have 400 in training this year. 

Click here for Young Māori butchers set to showcase their talent.